Wiki created November 30, 2008‎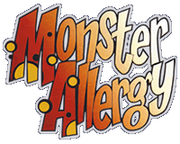 Monster Allergy Wiki
is a collaborative website about Monster Allergy. The wiki format allows anyone to create or edit any article, so we can all work together to create the site. Check out the
FAQ
to help you get started!
New on Monster Allergy Wiki
7.06.2018 I almost own every book Pre issue 30 except chapter 9-12. I will start to block sites if people do not add a source!
12.02.18 REWORKED INFOBOXES AND TEMPLATES YAY. I will start with the sub characters and work my way to the main cast.
05.02.18 The thing about the comic books... We kinda have a little Problem: since its nearly impossible to find all the old comic books (not even in italian) i decided that we stick with the new prints: this means the first book is actually comic 1-4. Its going to make our workload alot easier. I hope you understand that
16.12.17 Not only did my graphic card on my laptop say bye to me, DHL (post service) havent bought me any of my packages,BUT tthey have a good reason: some nasry people are treating htem with bombs and other stuff thats why i have to wait til january until everything goes to back to normal
13.11.17 The postman lost my package! i have to wait 2 months now -.- Why im telling you this? i ordered the 2 and 3 volume of the collectors edition and it sucks. Lets hope i dont run out of information from the 1 volume before my package comes hahaha
3.11.17 IMTHE ADMIN YAAAS. Waiting on the 4th issue of the monster allergy collectors book. I prefer writing on notepad and proof read it there instead of posting it on the wikia :D See u around
29.10.17 Ive made finally all templates (human,tamer,keeper,moster,comic templates) yaay. They do ahve some minor codeing mistake but ill take care later of that since no one is gonna snoop in the source code :P meanwhile ill photograph all my Monster allergy comics for pictures since there are none around in a OK quality. Gonna write only on minor characters. The major characters (Zick,Elena,..) will be later taken care of. Im still hoping that ill be able to aopt this wikia or that some of the admis wake up from their slumber so we can FINALLY have a nice layout
19.10.17: Hi guys im Kokoros and i decided to update this wikia. MA was a huge part of my childhood and seeing this wikia being dead just makes me sad. please be patient since im the only active user here. Creting templates,writing and sourcing everything takes time >-<
User:Per Ankh has created a list of things user can do to help out.
Anyone who could help on anything would be greatly appreciated